Laura A. Framingham is the leader of Emomancers. She hands out quests to aspiring Emomancers.
Description
Edit
"Perpetual gloom surrounds the leader of the Emomancers, giving her a certain air of mystery, a certain je ne c'est...I dunno."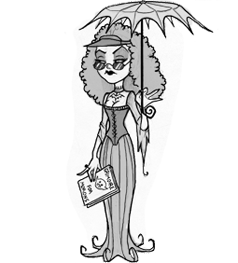 Fantasy University < Liberal Arts < The Basement
Reference to Laurell K. Hamilton, author of the Anita Blake novels.
Reference to Morticia from The Addams Family.