Description
Edit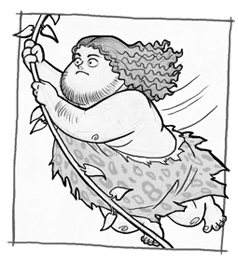 Hugozan is a expert in speaking to primates who've passed on to the afterlife , or Necrosimianism.
Trainwreck > The Jungle > Monkey Town > Hugozan's Treehouse
After climbing up a bizarre tree house, a rather large guy in a leopard print comes swinging down from the treetop to greet you." Dude, welcome to Monkey Yown! The name's Hugozan. Sorry I look such a mess, it's just that my best friend Impala has gone missing! I'm almost positive it has something to do with The Super Conductor, and that base he's built on the outskirts of town. Hey dude, if you have some free time, could you maybe do me a solid and lend your support?"
You can only enter wearing a Monkey Suit.
Reference to Hugo 'Hurley' Reyes from Lost